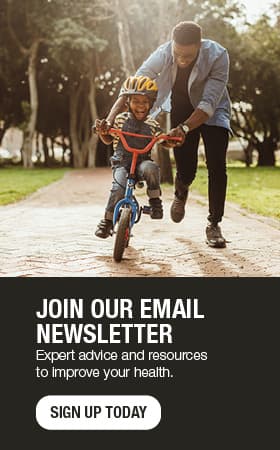 COVID-19 community forum: Strategies for resilience in uncertain times
Mayo Clinic Health System in Southwest Wisconsin hosts biannual community forums to update the community about health care in the community. In mid-November, nearly 500 community leaders from a variety of organizations joined the forum to learn more about resiliency during the COVID-19 pandemic.
Watch the full community forum:
The information and figures presented during the forum were accurate as of Nov. 10, 2020. Due to the pandemic's fluctuating nature, the details will frequently change.
Stacey Rizza, M.D., Mayo Clinic Infectious Diseases, principal investigator in clinical trials to advance medical treatment of COVID-19, presented "COVID-19: What we know":
In the Midwest, we are living through what we would call a surge. We look at percent positivity as the best indication of what's around the corner. We like it to be less than 5%, which tells us that our communities are doing pretty well controlling the amount of infection. When you're between 5% and 10%, that's higher than we like it to be and it's an indication that we might start to see a surge. Once you're over 20%, it's a danger zone. Right now in the Rochester area, we're bouncing between about 12%–14%. In Northwest Wisconsin, we got into the 20% range recently, and Southwest Wisconsin is in the teens. We know that our hospitals are receiving large numbers of infected people every day, and this is a stress on the health care system. We know physical distancing and wearing masks can slow down the risk of transmission. We didn't know all this in the spring.
In most situations, people who are going to have symptoms will do so for about the first seven to 10 days. They'll have what we call the "viral phase," with the potential of having achy muscles, fever, a sore throat, loss of smell or taste, perhaps a bit of a cough. Right around days seven or 10, they'll either slowly start to feel better or they'll crash and get very sick. The reason for the crash at day seven to 10 is because that person's immune system had an inappropriate or dysregulated response to the virus. That's when people often end up needing ICU care and perhaps ventilators to breathe. This is most likely to happen for the very elderly, people who are undergoing chemotherapy, people who have underlying heart or lung disease, people with a BMI over 30, and some evidence suggests people with Type 2 diabetes.
We now have the antiviral drug remdesivir to help with treatment. This is used during the first seven to 10 days. Other drugs are still going through the trial process. There are additional drugs used in the second immune phase that are immune regulators that target those exact portions of the immune system that are being dysregulated. If you put all of that together, our patients are doing better, even if they need hospitalization. It doesn't prevent every death, unfortunately.
Getting a vaccine is like exercising the immune system. It gets stronger if you stimulate it with any vaccine. That's why you are encouraged to get the flu shot — to protect yourself from seasonal flu and to exercise your immune system so it is stronger to protect against other illnesses.
Evidence suggests that vaccines are effective. While the effectiveness isn't perfect and may affect people with underlying health issues differently, we hope that it will be approved. Then we will work to get everybody vaccinated as quickly as possible, even if the effect only lasts four months. If we can get the majority of the population vaccinated within that first six months to a year, that's enough to make a huge difference and control the pandemic.
Joseph Poterucha, D.O., chair, Mayo Clinic Health System Critical Care Medicine and Pediatrics, presented "Pandemic pandemonium! Trust me, you've got this":
Be direct with your kids. Directly ask them to tell you why they're not going to school or why you're not going to work. You really want to get a sense of what's going on in their mind. You can then educate them, and dispel any myths or misconceptions that they have. By saying what you don't know, you open an invitation to your kids to talk about their feelings.
You can win a lot of points by empathizing with how they're feeling. Teens may be missing out on senior year activities. You also want to tune into any changes in baseline behavior. This is particularly important for little kids, as they have difficulty projecting their emotions into words. This often translates into misbehavior, talking back, temper tantrums, loss of sleep and irritability. The activities kids are missing may feel like the end of the world for them. For you, it may feel small because perhaps you're worried about paying the bills or what's going on in the political atmosphere. Validating their feelings will go a long way into engendering trust for approaching difficulties down the road.
Let your child know that they're not alone. Loved ones, friends and the community are facing this. Be ready to answer questions. Kids are getting sick, so educate them about prevention. Be honest with it in a gentle manner. They may be scared, and you can help them overcome some of those fears.
Kids rely on the face to understand emotion and feel safe, so you're going to have to help them understand how to communicate in a different way.
Developing a routine amid the chaos is critical. Structured routine and boundaries help kids feel safe. Routine helps prepare kids for adulthood. Keep a visual calendar so you can get a pulse on the daily activities. Keep sleep and meal times consistent so kids know what to expect. Prepare for the next day the night before. This gives them a sense of routine and safety.
Take advantage of the intimate time you are spending with family. Plan game night, watch a movie together and enjoy the one-on-one time that children absolutely crave.
Anxiety, stress, sadness and anger can lead to bad behaviors. Reward good behaviors and ignore bad behaviors.
Get rid of restless energy. Give kids a chance to move their bodies and relieve that physiologic internalized tension to reduce anxiety about COVID-19 and family stress. It's good for their bodies. They sleep better, and perhaps that translates to earlier bedtime. It may feel liberating to get outside the house or classroom.
Lower your expectations. You don't have to be perfect. Things are not going to go perfectly. Find something enjoyable and embrace it — a good book, hunting, shooting basketball, watching movies, etc.
Make time for your significant other. Spouses in harmony makes kids feel safe. Stay connected to your family and friends.
Lisa Howell, Ph.D., Mayo Clinic Health System psychologist, presented "Coping with COVID-19 by revitalizing your resilience":
It's important to note that stress is completely normal during this time. It would be strange if we weren't all feeling a little more stressed. While some find comfort in being informed, it's important to recognize information overload also can cause stress. Set limits with social media and news to limit the amount of stress from those outlets.
The following tips are adapted from the resiliency work of Amit Sood, M.D., a former Mayo Clinic Internal Medicine physician, director of research in the Complementary and Integrative Medicine program and chair of the Mind-Body Medicine Initiative. He recommends that you focus on one component each day of the week, each week:

Gratitude (Mondays):
This positive emotion helps people recognize the silver linings of circumstances, and is linked to many positive health effects, including improved well-being and overall mood. Say "thank you" in the morning during the quiet moments of your day. At the close of your day, consciously look for those silver linings. Learn more about Mayo Clinic Health System's Discover Gratitude challenge.
Compassion (Tuesdays):
This is the ability to feel another's suffering and to try to relieve it. Those who give and receive compassion have lower stress and pain, better immune systems and quicker recoveries. Self-compassion is important, too. Recognize that you have limits, and balance your own self-expectations.
Acceptance (Wednesdays):
This is engaging in flexible ideas versus rigid ideas about how things should be, which allows us to focus on controllable factors and experience things without judgment. Nonacceptance or judgment of ourselves, our experiences or those around us keeps us stuck in that battle, and prevents us from being able to move forward and experience the joys that may be happening around us. Recognize that every moment is unique and try to have less criticism for those around us, as it often pushes people away physically or emotionally. Especially during the times of the pandemic, many are reorganizing priorities and recognizing what is most important.
Meaning (Thursdays):
Having meaningful interactions can increase joy, decrease anger, improve coping, improve self-esteem and improve quality of life. Don't just going through the motions, but really engage with every aspect and person that you're in contact with. Consider helping others through struggles, connect with others in a relationship, recognize those silver linings, invite new opportunities, seek solace in nature, and recognize your own meaning and how you are affecting those around you.
Forgiveness (Fridays):
Forgiveness is a voluntary choice and a gift that we can give to someone else. It takes energy to let go of anger, resentment and hurt, which is really difficult. It isn't easy to practice or learn, but research suggests that those who experience forgiveness or practice forgiveness have less stress, better blood pressure, less pain and greater life satisfaction. To practice this, we need to again lower expectations for ourselves or others, be kind and patient, and remember that we're all in this together. Remember that most people are just trying to do their best.
Relationships and celebration (Saturdays):
Your tribe consists of the people who bring you joy, who understand you, who are honest and accepting, who provide meaning to your existence and who want the best for you. These people understand your imperfections, and share in your success and sufferings. People with a strong sense of positive relationships age better, have less depression, and better quality of life and immune systems. Find ways to connect with those people in safe ways, and be flexible, patient, kind and helpful toward one another. Perhaps reach out to family, friends and neighbors who may be struggling to help engage with them in safe ways.
Reflection, prayer and meditation (Sundays):
These facets are personal and different for everyone. There's no right or wrong way to do this. They are an opportunity to be still to know what's happening in your life, let go of expectation and judgment, be in the present moment, and honor yourself and your existence.
---
For the safety of our patients, staff and visitors, Mayo Clinic has strict masking policies in place. Anyone shown without a mask was either recorded prior to COVID-19 or recorded in a non-patient care area where social distancing and other safety protocols were followed.
Topics in this Post