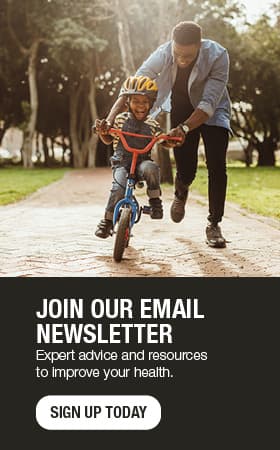 Which advice to follow?
"So many studies today are splashed across the headlines, and the advice seems to change on a weekly basis," says Martha Grogan, M.D., a Mayo Clinic cardiologist.
Only one headline is consistent: Heart disease still the No.1 killer of men and women in the United States
The truth?
"We've made huge progress in the fight against heart disease," says Dr. Grogan. "The overall death rate from heart disease has decreased by more than 33 percent in the last 50 years. That's a lot."
And yet, heart disease still maintains its position as the No. 1 killer of men and women. So, clearly, there is still work to do.
4 things you can do today
The solution may not be easy, but it is simple.
"The majority of us can reduce our heart disease risk by 70 to 80 percent by doing just four things," says Dr. Grogan, "and yet, less than 2 percent of the population is doing all four."
Here are four things you can do to lower your risk.
1. Eat a nutritionally balanced diet.
"There is more and more evidence that a Mediterranean diet — high in protein from fish and nuts, as well as healthy fats like olive oil — has tremendous benefits for reducing heart disease risk," says Dr. Grogan. See below for practical advice on following a Mediterranean diet.
2. Get regular physical activity.
"Our recommendations have changed in this area in the last five to 10 years," says Dr. Grogan. "Exercise is very important, but research has found that simply being physically active with your day-to-day activities can keep your heart healthy."
This includes activities such as gardening, cleaning, taking the stairs, parking a little farther away from your destination and simple movements, like standing, walking, and stretching throughout a long workday.
"In an increasingly screen-filled world, we sometimes underestimate how much time we spend sitting down," says Dr. Grogan.
3. Maintain a healthy weight.
Losing weight or maintaining a healthy weight takes good nutrition and physical activity. But did you know that your sleeping habits may be part of putting on extra pounds?
"When you're sleep deprived, which means not getting enough restful sleep, you reach for the high-sugar, high-carb foods to help give you those bursts of energy," says Dr. Grogan. "With adequate sleep, you can focus, have more energy and more easily stay away from the junk."
4. If you smoke, quit.
Ask your care provider about resources Mayo Clinic has to help you quit.
---
Try this: How to eat a Mediterranean diet
"The research on the heart-healthy benefits of a Mediterranean diet
is very strong and growing," says Martha Grogan, M.D., Mayo Clinic cardiologist.