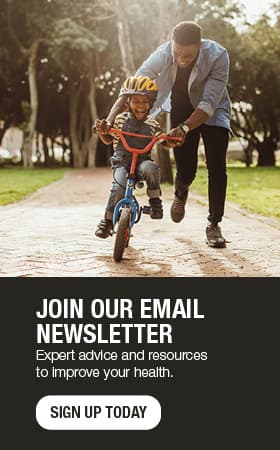 Mike Hesch eats carrots. And Brussels sprouts. And sweet potatoes. In fact, Mike is very eloquent about his newfound love for vegetables.
Eating well is just one of the elements of Mike's healthy lifestyle, which involves a three-pronged approach: nutrition, exercise and stress reduction.
Mike, who has a highly demanding corporate job, and his wife, Lisa, who is a school psychologist, recognized they needed to refresh their commitment to their own health. And they are taking their entire family — son, Ben, 16, and daughter, Anna, 14, along for the ride.
"About two years ago, I recognized that my life had gotten out of balance," says Mike. "I was not exercising, I was not managing my stress and I was not eating well. I realized that this was no way to live. My wife gave me the gift of an intensive 40-day program that included clean eating, daily yoga and meditation, as well as support and education about how to sustain."
These changes have become the new normal for the Hesch family, who, despite having the typical busy lifestyle of families today, include activities, such as bike riding, kayaking, paddle boarding and hiking, as a regular part of the family schedule. Mike and Lisa are likely to spend their date night at yoga practice before heading out to a nice dinner together.
Here are a few tips from Mike and the whole Hesch family:
Healthy eating isn't just salads. We immediately realized that we needed to explore lots of ways to prepare and enjoy more fruits and vegetables, or we would quickly become bored. We love roasted or grilled veggies — whatever we have on hand, and we have discovered or rediscovered many new ways to prepare them. I'm eating for vitality now, not just to feel full.
You can eat healthy, even when you're busy. Our kids are in lots of sports and other activities, so we're often running from thing to thing. It does take a little forethought, but if we have some frozen chicken breasts and a supply of vegetables, we can throw a tasty meal together in no time.
Limiting less healthy items, such as sugar or processed food, isn't that hard. There was an adjustment period, for sure, but once we were on the other side of it, we no longer craved those sweet or snacky foods, which is actually freeing. The subtlety of the flavor and texture of foods as they exist in nature really pop for us now, and we like them just the way they are.
You don't have to stop socializing. I don't eat perfectly every day, I crave a fully loaded burrito once a while or eat more festively at a social gathering, but I am more likely to snack on almonds or popcorn. If I eat pretty well most of the time, I don't sweat it.
Invest in your own health. Often, we will spend our time and money on all sorts of things, but do not prioritize our own health. I now work with a personal trainer, which has been very beneficial. Yes, I've lost weight, but mostly I feel stronger inside and out, and with a higher energy level.
Don't forget your mental and emotional well-being. I had never journaled before and, certainly, I had not done daily meditation or yoga. I find all these activities to be extraordinarily helpful, each in their own way, to find my own center and reset my balance.
Use your resources. I'm fortunate to have wellness programs and a health club at work. Even if you don't have those resources, there are many free wellness and exercise apps for your phone. Find simple activities you like that can become part of your normal routine, even it's just taking your dog for a walk.
You can keep motivated. I think people don't get started because they're afraid they won't be able to keep it up. I just keep thinking, "I've come too far to give up now. I don't want to lose any ground that I've gained." That helps me think about Lisa and the kids, and how I want to be healthy for them for all the years to come.
Everyone is a work in progress. It takes daily steps, choices and decisions. That might sound daunting; but, really, it means that every day we get to keep trying, and every day we can do a little better.
To start your wellness journey, visit the Live Well page where you'll find helpful information and resources.