We are experiencing high call volumes:
Use your account on the Mayo Clinic app or patient portal to check symptoms, get care recommendations and make an appointment.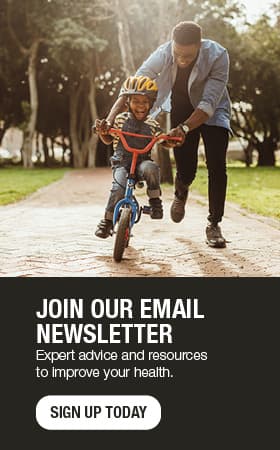 Healthy, happy and ready to learn: Expert back-to-school tips
In a few short weeks, kids will be heading back to school.
Whether this is cause for celebration or not, preparing kids ahead of time will help them get a head start in school. Hometown Health compiled this comprehensive back-to-school guide for transitioning your family from summer to fall in the healthiest way possible.
Protect against illnesses and accidents
"There are practical ways to stay healthy at school, and it begins with good hand washing," says Charles Peters, M.D., a pediatrician at Mayo Clinic Health System in Onalaska, Wis. Other tips include covering your cough or sneeze with your sleeve and keeping your child home when ill, especially with a fever.
If your child is driving, have a refresher now about safety.
"There's a big difference in traffic when school starts up again," says Dr. Peters. Talk to your children about driving distractions and how to avoid them. Cellphones and texting are strongly discouraged (and could even be illegal), but talking, eating and a lack of sleep can be distracting too.
"It only takes a moment of inattention, and that's not the sort of thing you want any young person to experience the hard way," says Dr. Peters.
Schedule an exam
If your kids are due for a comprehensive medical exam, summer is a great time to check it off the list.
"At a medical exam with your primary care provider, there's an opportunity to go over the whole spectrum of your child's health and well-being," says Dr. Peters. "The parent and provider can strategize for the upcoming school year."
If your child is 11 or older and needs a sports physical, that exam and paperwork can be covered during a comprehensive exam as well. You may also schedule a sports physical only, if all other immunizations and examinations are current.
Stay active and keep tabs on nutrition
Even during the busy school year, your children are noticing your health choices.
"Ultimately, kids look to their parents to be examples," says Dr. Peters. "One of the best ways is to participate in active time as a family."
Be sure your kids are eating well, too, starting with a breakfast that includes protein and complex carbohydrates. If your child eats school-provided lunch, make sure the fruit and vegetable options are being eaten.
Or, pack a well-balanced lunch for your child.
Consider your calendar
Dr. Peters suggests starting a slow transition to the school year schedule now. "Most of us have more leniency in various areas during summer break, whether it's diet, bedtime or supervision of television and video games," he says. "Those routines might be worth revisiting now, before we don't have that many free hours."
And as you look at fall schedules, remember to save time for what's important.
"Of course kids should be involved in extracurricular activities, but they shouldn't be so all-consuming that they take way from quality family time, which is so important," says Dr. Peters. "Strike a good balance. Remember, kids need downtime, too."
---
How to handle a bully
According to the American Academy of Child and Adolescent Psychiatry, up to half of all children are bullied at some point during their school years.
Bullying can be:
• Physical, such as hitting, kicking or destroying property
• Verbal, such as teasing, taunting and gossip
• Cyberbullying, such as harassing emails, instant messages, social media posts or texts
Encourage your child to talk to you about the situation and teach him or her how to respond in a mature and non-retaliating way. If the bullying doesn't stop, contact school officials and follow up until it's resolved.
---
Immunizations: The best protection from illness
Many schools have a "No Shots, No School" policy, meaning that all children need to have up-to-date immunizations to attend.
"Vaccines have cut down the risk of many childhood illnesses by more than 95 percent," says Priya Sampathkumar, M.D., a Mayo Clinic infectious diseases specialist. "When you vaccinate, you're not only keeping your own child safe, but also other people who won't be exposed."
Call your primary care provider to be sure your child's shot records are up-to-date before summer ends.
---
For the safety of our patients, staff and visitors, Mayo Clinic has strict masking policies in place. Anyone shown without a mask was either recorded prior to COVID-19 or recorded in a non-patient care area where social distancing and other safety protocols were followed.