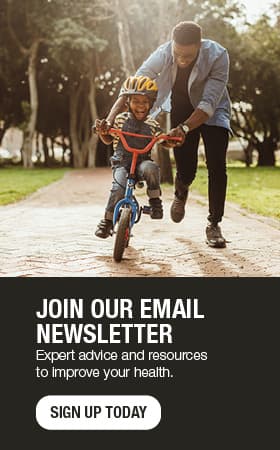 Building wellness: Food as a healthy foundation
Wellness is more than just eating right — a healthy diet can set the stage for a healthy life.
"We know that wellness is bigger than just diet and exercise," says Katherine Zeratsky, clinical dietitian at Mayo Clinic. "Sleep, stress management, social connections and mental health are all part of the picture too."
But when you're trying to decide what to tackle first, research says to look at your food.
Diet as first step to wellness
"Nutrition is a foundation of a healthy lifestyle," says Zeratsky. "It's hard to outrun a poor diet. It's not the only thing, but if you eat better, it probably will feed into other things. If you're making a healthier choice every time you eat, it can be the first step to wellness."
How do I start?
"We can all strive to eat a little bit better," says Zeratsky. For many people, this begins with simply paying attention.
"Take an inventory of what you're eating and drinking," she says. "Oftentimes, we don't register what and how much we're eating, and it's easy to eat more than we need."
For others, Zeratsky says, it's about adding missing food groups to their diet. Sometimes, basic lifestyle changes can lead to healthier eating.
---
Try this: Fresh and local from the farmers market
Local farmers markets and food co-ops are becoming more common, even in small communities. Purchasing local food is a great way to incorporate more fruits and vegetables into your diet.
"If it's your first time at a farmers market, go with the attitude of being an explorer," says Zeratsky. "Don't be afraid to be a novice and ask questions. Most farmers are more than happy to tell you about their produce and how to use it."
Keep in mind that food from a farmers market will likely taste different from what you buy in a grocery store, simply because it's fresher.
"Keep an open mind about trying new things," says Zeratsky. "You might find that awakening your taste buds allows you to enjoy your food more."
---
Nutrition for kids
Regardless of age, everyone needs the same types of nutrients. What might change is the amount needed at various ages for proper growth and development.
In general, be sure your child's diet is rich in nutrient-dense foods, such as whole fruits and vegetables, whole grains, dairy and proteins, such as lean meat, eggs and nuts. Limit calories from sugary drinks, sodas and treats, as well as solid fats, such as stick margarine.
For more detailed information about nutrition needs for boys and girls at various ages, visit mayoclinic.org and search "nutrition for kids."