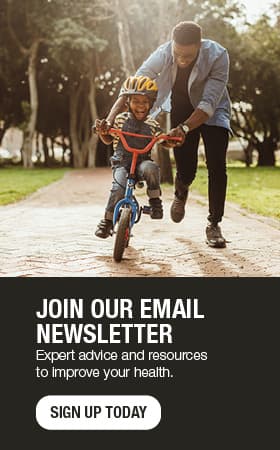 Are your kids ready to go back to school?
As you and your family gear up for the start of another school year, you are shopping for backpacks, clothes and other school supplies. While these items are all part of a successful learning experience, making sure your child is healthy should be your top priority. You'll rest easy knowing that your healthy child will be better able to succeed in school.
Use this Back-to-School Countdown checklist to ensure you are addressing your student's most important health needs:
✔ UPDATE VACCINES
Review your school's requirements, and call your provider to ensure that your child's vaccines are up-to-date. Children now can be vaccinated for HPV at age 11, and the measles-mumps-rubella and chickenpox vaccines have been combined into one immunization.
✔ SCHEDULE DENTIST
Regular dental exams are an important part of preventive health care for people of all ages. Dental specialists say students should brush teeth, gums and tongue twice daily, and visit a dentist twice yearly.
✔ SCHEDULE CHECKUPS
Vision checks are performed during routine well-child visits, usually between 6 months and 1 year old, again between 3 and 4 years old, and at regular intervals thereafter. Most children should have a well-child exam every year.
✔ PROMOTE GOOD SLEEP HABITS
Adequate sleep is important for learning and overall well-being. Start promoting healthy sleeping habits with your children before the school year begins. If kids get regular exercise during the day and turn off electronic devices at least an hour before bedtime, they'll likely get a better night's rest.
✔ REGULATE ANXIETY
Getting ready for a new school year can cause anxiety for some students, especially soon-to-be kindergartners and middle-schoolers. You can help by reassuring your child that anxious feelings are normal, and encouraging him or her to talk about what causes those feelings. When kids think about or practice doing the things that make them anxious, they can learn to better cope with their feelings.
---
For the safety of our patients, staff and visitors, Mayo Clinic has strict masking policies in place. Anyone shown without a mask was either recorded prior to COVID-19 or recorded in a non-patient care area where social distancing and other safety protocols were followed.
Topics in this Post