We are experiencing high call volumes:
Use your account on the Mayo Clinic app or patient portal to check symptoms, get care recommendations and make an appointment.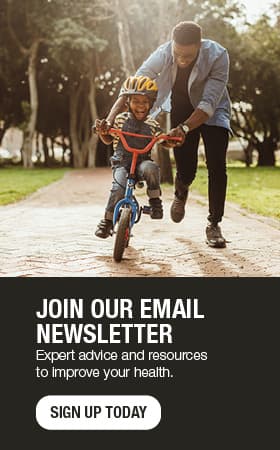 Small changes can reduce your risk of diabetes
"People who develop diabetes may not have any symptoms for some time," says Lynn Severson, a nurse practitioner in Endocrinology in Eau Claire. "Learn the risk factors. If you have any, work to lower your risk."
Risk factors for diabetes include excess weight, high blood sugar (past or present), diabetes during pregnancy, high cholesterol levels, inactivity, tobacco use, unhealthy eating or a family history of diabetes. If you have one or more risk factor, make small changes toward healthy living such as:
Gather support from friends and family.
Accept that you have habits you need to change. Ask yourself if you are ready, willing and able to make the necessary changes. Believe you can change, and try one small step at a time.
Make a list of what you are willing and able to change, such as the foods you buy and your activity levels. Try using smaller plates to cut your portions in half.
Write down your short, specific, realistic goals.
Aim for 30 minutes of activity daily. You may have to start with less, but any additional activity is helpful. Consider walking with a friend.
Review your progress regularly. When you make one change successfully, work on your next step.
Early detection is important to avoid long-term problems. See your primary care provider, and have your blood sugar tested regularly.
Gather resources, including the American Diabetes Association website, diabetes.org, and MayoClinic.org.
Talk with your doctor if you have questions or need additional help managing your diabetes.
---
What is a diabetes educator?
Diabetes educators are specially trained nurses or nurse practitioners who provide comprehensive training to assist patients with diabetes. They educate and encourage patients to make lifestyle changes, take care of their disease and improve their health.
Training includes information on nutrition, exercise, medications and blood glucose monitoring, as well as strategies to change behaviors or avoid complications associated with diabetes. Educators also work with families on how to help and support a loved one with diabetes.
---
For the safety of our patients, staff and visitors, Mayo Clinic has strict masking policies in place. Anyone shown without a mask was either recorded prior to COVID-19 or recorded in a non-patient care area where social distancing and other safety protocols were followed.