We are experiencing high call volumes:
Use your account on the Mayo Clinic app or patient portal to check symptoms, get care recommendations and make an appointment.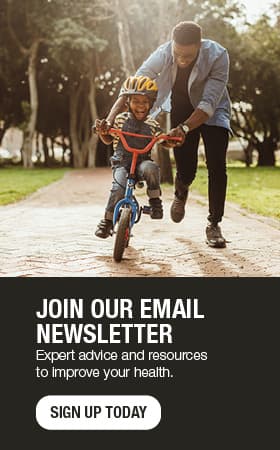 "Mom, Dad — We need to talk."
While those six little words may have already increased your stress level, Kristin Kirsch, M.D., Family Medicine says that it's possible to help care for your aging parents gracefully.
The key is the approach you take.
"I usually recommend starting with yourself," says Dr. Kirsch, who is also Austin's Palliative Care and Hospice medical director. "Say something like, 'I've been thinking about what I want for my health care in the future, and I realized I don't know what you might want.'"
Even if these conversations weren't welcome in the past, Dr. Kirsch says that parents usually want to help their children.
"Sometimes if you just express fear that you don't know how they want to be taken care of, it can bring them around to understand," she says.
Once you get the conversation started, here are some topics to cover:
Diet. "Eating should be well balanced, but not necessarily low-fat," says Dr. Kirsch.
Exercise. A healthy activity level is different for everyone, but some movement is vital for overall health. For older adults, certain activities are more beneficial than others. "Balance exercises have been shown to decrease falls in people as they age," Dr. Kirsch says.
Medications. According to Dr. Kirsch, older adults should re-evaluate their medicine regimen as they age. "It's important to not try to fix everything with a pill," she says. "Take only what's necessary."
Finally, remember that the conversation goes two ways.
"I encourage adult children to be involved, but be flexible with their elderly parents," says Dr. Kirsch. "Ultimately, it's what your parents want to do. You have to let them live the way they want to."
---
For the safety of our patients, staff and visitors, Mayo Clinic has strict masking policies in place. Anyone shown without a mask was either recorded prior to COVID-19 or recorded in a non-patient care area where social distancing and other safety protocols were followed.