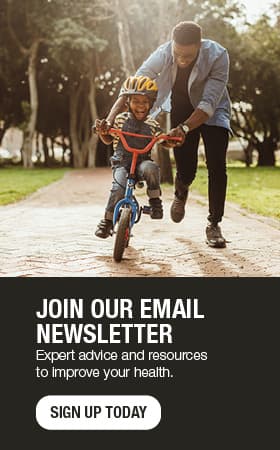 Hip fractures are a common injury among older adults, especially older women. Just ask Timothy O'Connor, M.D., an orthopedic surgeon at Mayo Clinic Health System in Eau Claire.
"I meet many of my patients after they sustain hip fractures," says Dr. O'Connor.
He'd like to meet fewer patients that way. That's because hip fractures have a significant impact on a person's quality of life. In fact, according to mayoclinic.org, about half of the people who experience a hip fracture are unable to regain the ability to live independently.
Below, Dr. O'Connor offers tips to keep your hips (and the rest of your bones) healthy, so you can avoid becoming his patient.
Testing and treatment
A bone density test can tell you whether you have osteoporosis, which causes bones to become more fragile. "Women should have a screening exam beginning at age 65, and men should begin at 70," says Dr. O'Connor.
If test results show you have osteoporosis, begin treatment right away. There are a variety of medications available to treat the condition. Your provider can help you decide which is best for you.