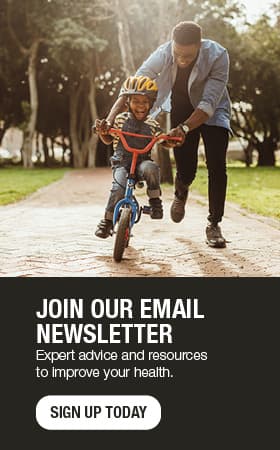 Exercise smart: Expert advice for student athletes
Judy Fruehbrodt-Glenzinski, M.D., sees some student athletes in her family medicine practice in Faribault, and advises her patients about staying healthy on and off the field.
But her practical experience is much more personal: She has three student athletes of her own.
Dr. Fruehbrodt-Glenzinski's sons, Drew and Peyton, and daughter, Tess, all compete on their schools' football, baseball, track, volleyball, basketball, and fast-pitch softball teams. Her oldest son, Drew, was named All-Area Football Player of the Year last fall.
Dr. Fruehbrodt-Glenzinski's advice — from her training and experience — for student athletes:
Hydrate
Be sure you're hydrated, even days before a game. This will ensure all your cells are hydrated and you're not just loading full of water that day.
Fuel
I feel a good, balanced diet with adequate protein is going to be more than beneficial for any athlete. Eat your fruits and vegetables, along with adequate amounts of lean meat.
Rest
Adequate sleep is important for everyone across ages and activity levels. Athletes should be sure to rest from activity by cross-training, too. This helps avoid overuse injury and ensures you're getting good overall conditioning.
Be safe
In addition to stretching and using proper equipment, be sure you're learning about the fundamentals of your sport and getting your form as perfect as you can. If you're not doing it right, there's a much higher chance of injury.
Have perspective
I think with any sport, it's important to keep your mind healthy, too. It's easy to get caught up in winning and success, but it's most beneficial when you focus on learning how to be a good sport, participate on a team and build character. That's what it's really about.
Stretch
Stretching before a workout will make you more comfortable. But stretching after a workout is very important. If the muscles you've just used are loose and limber, it will help avoid cramping afterward.