COVID-19 Information,
Testing and Vaccination
Preparing for the flu season during COVID-19 (coronavirus)
It's especially important to get your flu vaccine this year, because the flu and coronavirus disease 2019 (COVID-19) will likely be circulating at the same time and cause similar symptoms.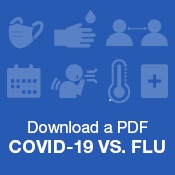 Learn more about coronavirus and flu similarities and differences.
The flu vaccine doesn't protect you from COVID-19. But getting a flu vaccine could reduce flu symptoms that could be confused with COVID-19 symptoms. Getting your flu vaccine also can help lessen the impact on health care providers and hospitals by reducing the number of people with severe flu and hospitalized with the flu.
Why getting vaccinated for the flu is doubly important this season
Watch Gregory A. Poland, M.D., a Mayo Clinic vaccine expert, explain why it's important to get the flu vaccine this year:
It's also important to follow precautions to reduce the spread of flu and COVID-19. For example:
Wash your hands regularly
Avoid touching your face
Cover your coughs and sneezes
Avoid crowds
Avoid anyone who is sick
Stay home if you're sick
Clean high-touch surfaces often
Take other precautions to reduce your risk of COVID-19, such as practicing social distancing and wearing a cloth face mask when around people outside your household
Find out more about the flu: