Face Mask Now Required
Mayo Clinic Health System is requiring staff, patients and visitors to wear a face covering or mask to slow the spread of COVID-19. Please bring your own face mask or covering to wear while at one of our facilities.
CDC face mask recommendations (includes a video on how to make your own face mask)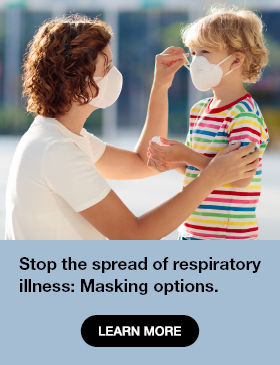 Need to contact your provider?
Sign up for Patient Online Services. It's quick and free. Contact your provider through secure messaging, access all of your test results, see your medical record, conduct a video visit and manage your appointments. Sign up today by clicking on the button below, or log in to an existing account.
Sign up today!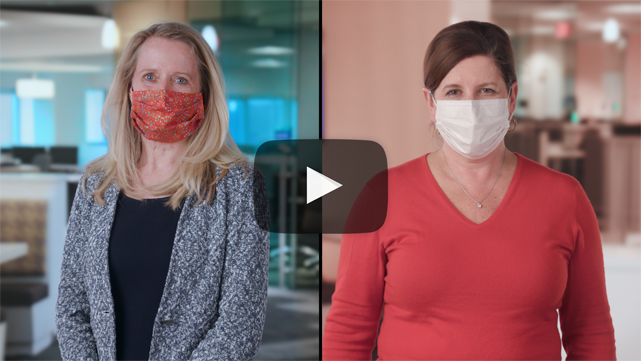 Mayo Clinic Health System is expanding in-person care in strict adherence with state and federal executive orders. Enhanced safety measures have been implemented across sites to protect patients, staff and visitors as more patients are welcomed back onto campuses.
Local health care options
During this unprecedented time, Mayo Clinic Health System has continued to successfully support patients and address their health care concerns during the COVID-19 pandemic, in strict adherence with state and federal executive orders.
This time was also used to enhance safety measures to provide a safe environment for patients and staff, including:
Robust patient, staff and visitor screening
Masking for patients, staff and visitors
Enhanced cleaning of patient care, staff and waiting areas
Expanded COVID-19 testing capabilities for patients who are scheduled for a treatment, procedure or surgery
These factors combined with new COVID-19 forecasts make us confident we can begin providing more face-to-face care to patients in addition to the virtual care options we have available. The video below walks you through a tour of all the changes we have made to make our locations safe.
If you'd like to make an appointment
Our teams are working quickly to connect with patients who need our most urgent attention first. Appointments that involve imaging, labs or other tests and treatments will be scheduled in person. Virtual appointments will continue to be an option for patients who do not need to be seen in person. If you'd like to make an appointment, visit our Request an Appointment page and select the location at which you'd like to be seen.
Below are details about the scheduling process and efforts to help patients prepare for in-person appointments. Following these temporary measures will help protect you, your care team and all of our patients. We will notify you should anything change.
If you have an urgent need, please do not delay care, whether it is COVID-19 related or not. Our emergency departments are open and our staff are prepared to care for you.
What do I need to know about my in-person appointment?
We will ask you a few questions when you schedule your appointment to help identify any symptoms or recent exposures you may have had to COVID-19.
We will call you 12 to 48 hours prior to your appointment to repeat these questions. If any concerns are identified, our medical support team will provide medical advice and determine if we need to update your appointments.

Patients, visitors and staff are required to wear a mask to decrease the risk of COVID-19 exposure. Please bring your own face mask or covering to wear while at Mayo. The Centers for Disease Control and Prevention has details on appropriate face coverings.
You are also being asked to not bring children under age 13 unless they are actively receiving care in the clinic setting.
Due to additional screening activities when entering Mayo Clinic Health System buildings, please allow extra time upon arrival (approximately 15 minutes).
Valet services are not available.

Hospital and emergency department areas

Mayo Clinic Health System has taken several temporary measures to keep you safe. Below is more information to help you prepare for your appointment.

No visitors will be allowed in the hospital setting or emergency department.
Exceptions include considerations for childbirth, end-of-life care, hospitalized children, and other rare and unique circumstances reviewed on a case by case basis by the care team.
Mayo Clinic Health System is requiring patients, visitors and staff to wear a face covering or mask to slow the spread of COVID-19.

Your cooperation with these temporary guidelines is very much appreciated. It is difficult to not be able to visit your friends and family, but these are necessary and appropriate steps that will help ensure that you and your loved ones remain protected.
What are my other health care options?
Mayo Clinic Health System Locations and Phone Numbers
Armstrong — 712-864-3360
Lake Mills — 641-592-2361

Adams — 507-582-3547
Albert Lea — 507-373-2384
Armstrong — 712-864-3360
Austin — 507-433-7351
Belle Plaine — 952-873-2276
Blooming Prairie — 507-583-7225
Blue Earth — 507-526-4642
Caledonia — 507-725-3353
Cannon Falls — 507-263-6000
Fairmont — 507-238-8100
Faribault — 507-333-3300
Janesville — 507-231-5118
Kasson: Primary Care — 507-284-3967
Kenyon — 507-789-6171
Lake City — 651-345-3321
Lake Crystal — 507-726-6966
Le Sueur — 507-665-6299
Mankato — 507-625-4031
Montgomery — 507-364-5600
New Prague — 952-758-4461
Owatonna — 507-451-1120
Plainview — 507-534-3169
New Richland — 507-465-3216
Red Wing — 651-267-5000
Rochester — Clinics are temporarily changing their hours:

The Baldwin Building (second floor) will open on Sunday from 10 a.m. to 2 p.m. to see patients by appointment for acute care needs.
All Rochester clinics will close at 5 p.m. Monday through Friday. This includes the evening prenatal clinic at Mayo Family Clinic Kasson.
Call your primary care team to schedule an appointment:

Baldwin Building — 507-284-5300
Northeast — 507-538-8500
Northwest — 507-538-8555
Southeast — 507-293-8590

Sherburn — 507-764-4610
St. James — 507-375-3261
St. Peter — 507-931-2110
Trimont — 507-639-9301
Truman — 507-776-2811
Waseca — 507-835-1210
Waterville — 507-362-4221
Wells — 507-553-6341
Zumbrota — 507-732-7314

Arcadia — 608-323-3373
Barron — 715-537-3186
Bloomer — 715-568-2000
Chetek — 715-924-4811
Chippewa Falls — 715-720-4400
Eau Claire — 715-838-5222
Ellsworth — 715-273-5061
Elmwood — 715-639-4151
Glenwood City — 715-265-7321
Holmen — 608-526-3351
La Crosse — 608-785-0940
Menomonie — 715-235-5531
Mondovi — 715-926-4858
Onalaska — 608-392-5000
Osseo — 715-597-3121
Prairie du Chien — 608-326-0808
Rice Lake — 715-236-8500
Sparta — 608-269-1770
Tomah — 608-372-5951