Speaker / Facilitator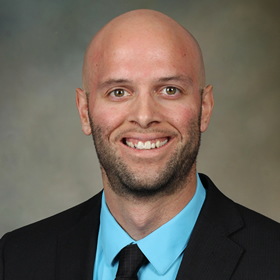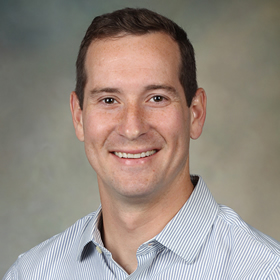 NEXT CLASS
November 12, 2022
Third Annual Youth Sports Symposium
Location
In person
University of Wisconsin-La Crosse Student Union
521 E. Ave. N., located off La Crosse Street
"U" in the "Bluffs Room"
Date and Time
11/12/2022 7:30 a.m.-12 p.m.
Cost
Free
Class Details
Join Mayo Clinic Health System and the University of Wisconsin-La Crosse Intercollegiate Athletics Department for a symposium designed to help athletes, parents and coaches better understand issues facing youth sports related to health, safety and performance.
The symposium will feature these presentations from 8:30–11 a.m.:
"Assess Don't Guess: The Integration of Science and Sport"
Andrew Jagim, Ph.D., will present why it's important to understand where you are so you can know where you want to go when it comes to your sports performance. He shares how science can be integrated into sport to guide the way. Dr. Jagim is director of Sports Medicine research at Mayo Clinic Health System in Southwest Wisconsin
"Exercise and Undereating"
Mark McEleney, M.D., will discuss how as a physician, he sees the impact of athletes under-fueling and the negative impact it can have in their performance and injury risk. Dr. McEleney is a physician in Sports Medicine at Mayo Clinic Health System in Southwest Wisconsin
"Training to be a College Athlete? Words from a Mom and Coach"
Deb Sazama, Ed.D., will discuss how as a previous college athlete, coaching college athletes and raising an aspiring college athlete, what it takes to get to the next level of athletics. Dr. Sazama is an assistant volleyball coach at the University of Wisconsin-La Crosse.
"Body Image in Sports. Fighting the Wrong Competition: An Athlete and Physician's Perspective"
Eric Twohey, M.D., will discuss how focusing on body image and the scale can limit opportunities, and how letting go of that battle helped increase his athletic ability. Dr. Twohey is a Physical Medicine & Rehabilitation resident at Mayo Clinic and assistant wrestling coach at the University of Wisconsin-La Crosse.
Students have two opportunities in addition to the presentations:
A movement clinic will be available before the presentations starting at 7:30 a.m.
Experts will provide hands-on demonstrations of proper technique for common strength, conditioning and sports movements.
A performance combine will be available directly following the presentations.
Students can have their speed, explosiveness and agility evaluated. Come prepared to work with athletic attire.