Overview of services in Albert Lea and Austin
Learn more about the Family Birth Center at Mayo Clinic Health System in Austin.
Childbirth Services
Are you planning or preparing for a very special delivery in the future? Our caring obstetrics staff is here to help you and your family plan and prepare for your labor and
delivery and beyond. Our local experts and specialists know you personally and can continue to provide you and your baby the care you need, when you need it. If you need more specialized care, we can connect you with Mayo Clinic specialists that are right for you and your specific care needs.
We even offer neonatology care that allows us to connect via video with a team of experts at Mayo Clinic should you need specialized care in the delivery room. Even though this is rarely needed, it offers peace of mind and is a great benefit to you and our staff if the situation and need arises.
When is labor and delivery moving to the Austin campus?
We recognize that having a baby is a very special time for families. We value each and every patient and appreciate their trust in Mayo Clinic Health System. We are here to provide patients with the best possible experience during pregnancy, labor and delivery, and post-partum.
We continue to prepare for the transition of childbirth services (labor and delivery) from Albert Lea to the Austin campus. All labor and deliveries will be moved to the Austin campus beginning the week of October 28, 2019, with all labor and deliveries taking place on the Austin campus effective October 30. Women who go into labor or are induced very near to or after the transition date will deliver in Austin (or another hospital of their choice) rather than in Albert Lea.
We recognize that this is a significant change to the timeline, and that it impacts current patients who were planning to deliver in Albert Lea. We're committed to working with individual patients and families to explore all options for revising their birth plan as needed or requested. As always, mothers should contact their OB provider with specific questions about their birth plan.
It's important to remember both Albert Lea and Austin campuses will continue to offer pregnancy, post-partum and newborn/pediatric outpatient (clinic) care. After being discharged in Austin, new moms and their babies will be able to continue to receive all follow up care from their regular provider on either the Albert Lea or Austin campus.
Why did the move of labor and deliveries from Albert Lea to Austin have to be accelerated even though the new Family Birth Center in Austin will not be complete before the transition?
As we have said from the beginning, the transition timelines we've shared have been our best estimates, and can be impacted by factors such as staffing. Despite our best efforts to recruit and retain obstetricians, nurses and other staff, we are facing a staffing crisis in multiple areas that impacts our ability to keep two labor and delivery units open until the completion of the new unit. Labor and delivery requires a full team of medical professionals to be available around the clock, every day of the year. This includes the delivering physician and a team of nurses, as well as a doctor for the baby, and a surgical team including anesthesia. Despite our best efforts to recruit and retain obstetricians and allied health staff, an urgent staffing shortage means keeping these large teams available for two birthing units is no longer possible.
When will the Family Birth Center on the Austin campus be completed?
We are on track to complete the new Family Birth Center on the Austin campus in 2020. The new Family Birth Center is designed to provide the birth experience today's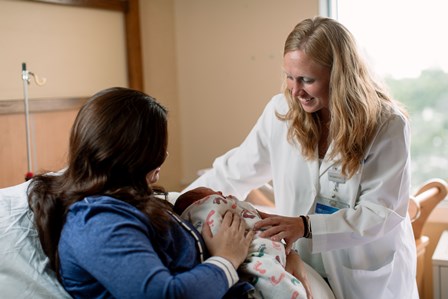 families expect. The design also creates an optimal work environment for staff. The new Family Birth Center will include ten labor and delivery rooms with private baths, giving families the comfort and privacy they expect, as well as a new C-section suite and an expanded family waiting area that includes amenities for families and visitors.
It's important to keep in mind that prenatal care (office visits during pregnancy) and postnatal care (office visits after delivery) will remain available on both the Albert Lea and Austin campuses.